The Arbortech Allsaw | An Innovation in Historic Building Renovation Tools
*Author's note: This saw was purchased with our own funds for use in one of our own projects; no payment nor product was received from Arbortech in exchange for this review.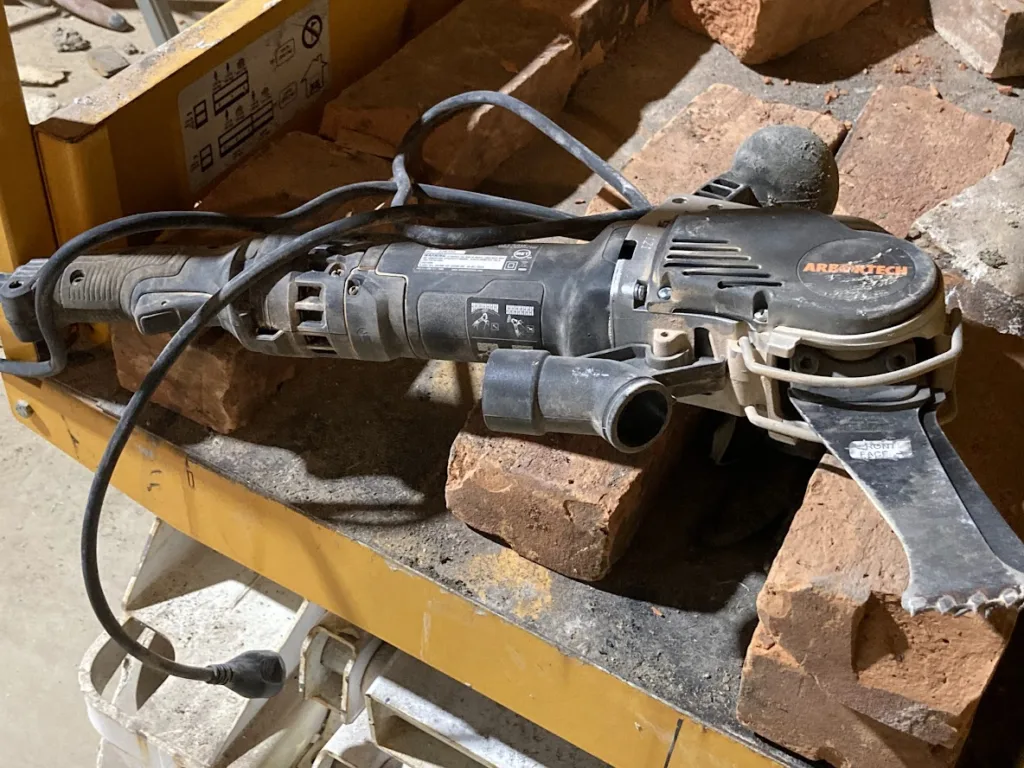 Have you purchased, or are you looking to purchase a historic property in need of brick restoration work? The Arbortech Allsaw is a new and innovative tool that is gaining popularity in the field of historic building renovation and restoration. As we've been involved in historic property maintenance and restoration, we've had the opportunity to use this Australian-made saw and have found that it offers some significant advantages over the traditional method of using an angle grinder with a masonry or diamond disk blade for tuckpointing, brick replacement, and masonry restoration tasks.
One of the key features of the Arbortech Allsaw is its dual blade design. The two blades run in opposite directions, which allows for a faster, more precise and accurate cut. We think of it like the product of mating a sawzall with a masonry angle grinder. The double blade design is made for working with historic mortar mixes, which are typically softer than modern brick masonry mixes. The dual blades working together will blast away damaged historic mortar very quickly while the tool's dust collection boot evacuates most of the harmful dust created by this work. This is particularly important for jurisdictions where OSHA standards for silica dust control are enforced; depending on your jurisdiction your municipal or state inspector may expect to see dust collection systems in place and paired with a HEPA dust extractor.
In terms of versatility, the Arbortech Allsaw is built for cutting brick, it allows for faster cuts to the precise depth required for removing brick with vertical mortar lines without cutting the bricks above and below the line. The plunge-style blades from Arbortech are the perfect size to slip around the entire brick, saving the contractor from having to hammer and chisel out partial grout lines to extract a brick. The variety of blades coming along with the Arbortech allows for perfect horizontal, vertical, and plunge cuts through mortar. Additional blade styles are purpose-designed for caulk removal, grout removal, head joints and smaller blades for cutting electrical switchboxes into masonry walls and clearing thinner grout lines seen in older masonry. The manufacturer advertises that this saw may also be used in cutting wood, but we've never tried it, still for various types of brickwork applications this is hands-down the best tool we've ever used.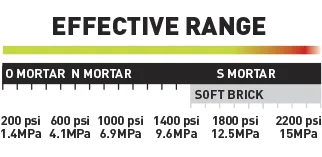 Arbortech provides a "tool rating" (above) to address the hardness of materials which the tool is designed for, and as you can see it is specifically for softer mortar mixes (we do not recommend this tool for cutting concrete or modern hard/glassy brick).
Does the Arbortech Allsaw come with some downsides? Yes. One of the main downsides is the cost of the tool (approx $1100 with some blades and carrying case included as of 1/18/23). The tool's proprietary blades are also expensive and can be difficult to come by, which can be a financial burden for smaller contractors and homeowners. Additionally, as the product is from overseas, it can be challenging to find anyone who sells or services them locally, which can be an inconvenience in case of any issues or breakdowns. So while we've never seen one of these saws on the shelves of our local tool rental shops, and while Arbortech's don't come cheap, we can certainly understand why the inventors of this tool would want to protect their intellectual property having created one of the best tools into the masonry game. Ingenuity is never cheap!
At the end of the day, the Arbortech Allsaw brings the biggest improvement we've ever seen to the day-to-day tools for the field of masonry restoration trade. Its dual blade design, versatility, and ease of use make it an invaluable addition to any contractor's toolkit. The precise and accurate cut it provides, particularly with softer historic mortar mixes, makes it a valuable tool for preserving original materials when working with brick.
If you're planning to cut out and replace brick by the order of hundreds as part of fixing up a historic building, or you just want the most time-effective and efficient tool out there for brick masonry restoration work as a contractor, the Arbortech Allsaw is worth a look and might just pay for itself in time savings (relative to other tools) during its first job.
For more information on the Arbortech saw, visit their website at https://www.arbortechtools.com/us
For more tips and guides like this, view Munro's other blog posts at www.munropros.com