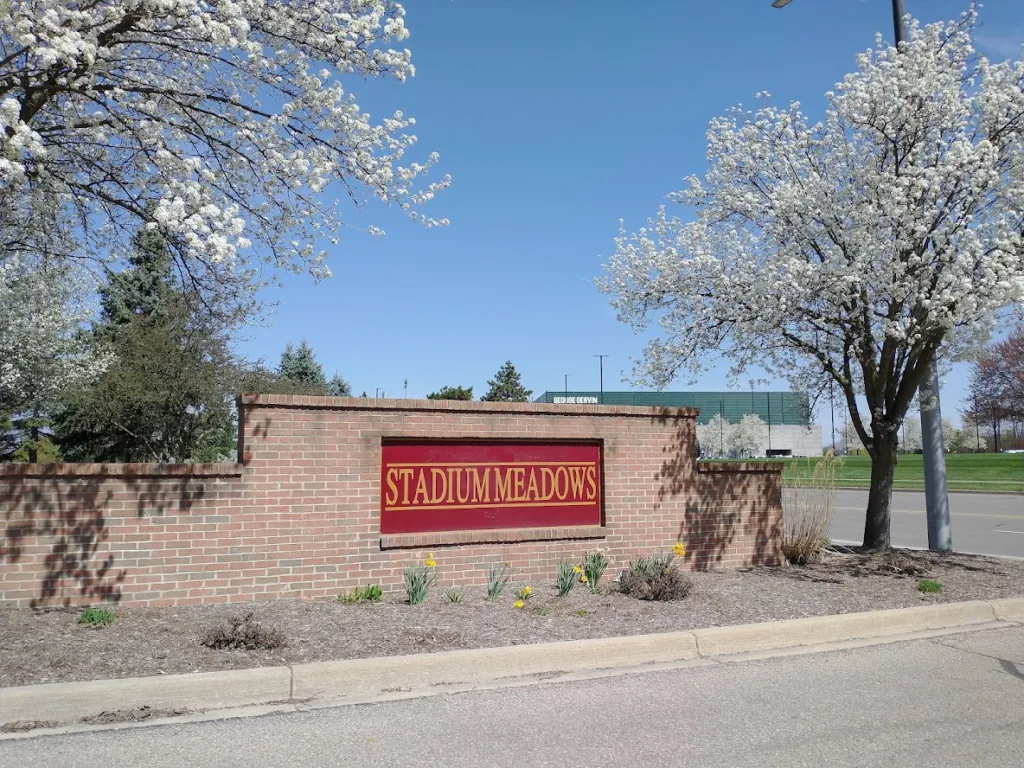 Stadium Meadows (Ypsilanti)
Sensible Condos within Walking Distance of Eastern Michigan University
Located just across the street from the George Gervin GameAbove Stadium, and just up the street from the Ryanearson and Oestrike Stadiums, condos at Stadium Meadows in Ypsilanti offers a great option for university staffers, grad students and professionals. Stadium Meadows is also an easy commute to Ann Arbor, Detroit and the surrounding metro area. St. Joseph Hospital, University of Michigan, freeways and dining & shopping are also close nearby. Walgreens Pharmacy and several more shopping and dining amenities are just a few blocks away.
Residents and co-owners living along Stadium View Dr and Eagles Cir can expect modern living inside a brick structure with shared, covered entryways and covered parking available.
The 128 units in Stadium Meadows all have 2 bedrooms, with 2-bath and 1-bath floorplans ranging from ~990 up to 1069sf. Since these were all built in the early 2000s (from 2000 thru 2002), modern features include vaulted ceilings, walk-in closets, private laundries, and many of these units have updated kitchens and bathrooms.
The community consists of 16 buildings which are each 2-story and consist of 8 condominiums per building. Each building has upper decks for 2nd story units, and 1st floor units have a patio.

As of writing this, the HOA @ Stadium Meadows allows pets (limit 1 dog, 1 cat) and is managed by Pinnacle Management
Give us a call if you'd like to discuss selling a condo in Stadium Meadows, or if you're interested in purchasing one of Ypsilanti's most reasonably priced condos.
---
Condos for Sale in Stadium Meadows, Ypsilanti
Stadium Meadows Condo Bylaws