Cooperative vs. Condominium
Understanding the Differences and Common Issues in Southeastern Michigan
First, the Basics…
When it comes to residential real estate, two popular options for homeownership are cooperatives and condominiums. Both offer unique benefits and drawbacks that potential homebuyers should consider before making a decision. When deciding between a cooperative vs condominium in southeastern Michigan, it's important to understand the differences between them so as to make your best decision.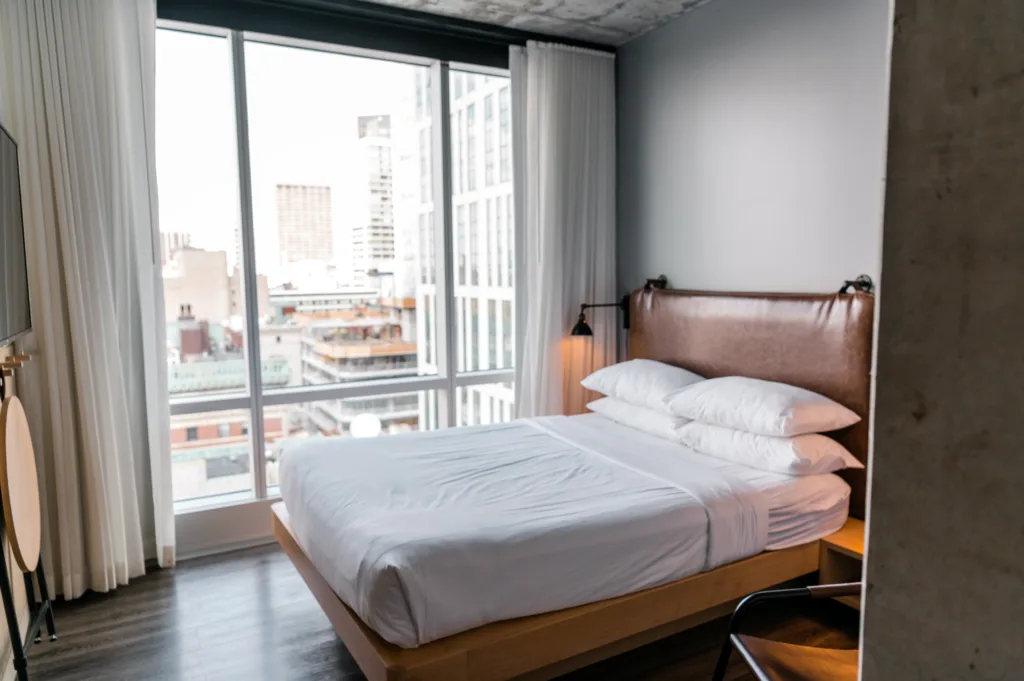 Cooperatives – What Are They?
A cooperative, or co-op, is a form of residential property in which a corporation owns the building and residents own shares in the corporation. Coop share ownership often (though not always) determines which unit in the cooperative subdivision will be occupied by the coop shareholder. By owning shares in the coop corporation, each member has a vote in choosing its Board of Directors who collectively make policy decisions regarding operations of the cooperative. In other words, residents do not own the physical unit they live in but rather a portion of the building or subdivision. Residents are also responsible for paying monthly maintenance fees or carry charges, which cover expenses such as utilities, property taxes, and building upkeep. The specific amenities included in cooperative association fees (eg, water, insurance, property taxes, natural gas, or exterior or interior maintenance) varies by each association, and those fees can change over time depending on the needs and policies instituted by the coop's Board of Directors.
Cooperative Advantages:
Affordability: One benefit of a cooperative is that it can be more affordable than owning a condominium or single-family home. This is because residents only own a share of the cooperative subdivision rather than owning their entire unit, which can lower the overall cost of homeownership particularly if the association covers interior maintenance items such as HVAC or boiler repairs.
Lower closing costs: Another advantage of co-op purchases is that they tend to have lower closing costs than condominiums and single-family homes since cooperatives usually do not require title insurance or transfer taxes that are typically collected when a purchaser buys a home or condo via warranty deed; so while a condominium purchaser may need to set aside roughly 3% of their purchase price for closing costs, a cooperative purchaser may need less than that (closer to 1% would be typical but this varies by the association which establishes transfer fees and other costs).
Rules and regulations: Cooperatives often have strict rules and regulations, which can help maintain the subdivision's appearance, uniformity, and prevent disruptive behavior from residents; cooperative association rules and regulations can also be a common source of complaints from coop shareholders who view these as a disadvantage rather than a benefit. Coop shareholders generally have a vote for who serves on the Board of Directors in the cooperative association along with the ability to attend meetings and voice their opinions, but this is still not the same level of control which single-family residential homeowners enjoy over their property.
Community and collaboration: Cooperatives which are owned and operated by their residents often host community events and provide other ways to foster a sense of belonging and collaboration among their residents. Centennial Farms, a 55+ cooperative community in Green Oak Township (South Lyon, MI), for example is known for hosting member group events and outings for cooperative members to have things to do locally in their community.
Cooperative Disadvantages
Lack of financing options: One significant drawback is that obtaining financing for a cooperative can be much more challenging than obtaining financing for a condominium or a single-family home. As a result of this several co-ops in southeastern Michigan are sold as "cash only" since they are not financeable due to a lack of conforming mortgages which can be used to finance co-op units. One reason for this is that lenders tend to view cooperatives as riskier investments due to the potential for financial instability within the corporation. And since many co-ops are "cash only", this can impact the resale value of cooperative units as most purchasers tend to utilize financing for their purchase; "cash only" sales restricts that pool of potential buyers and this can be particularly difficult for cooperative sellers in declining markets since the pool of purchasers with enough cash to buy can decline significantly, making it difficult to sell cooperative member shares.
Stricter rules and regulations: Cooperatives often have stricter rules and regulations compared to condominiums, and these rules can limit residents' freedom to modify or personalize their units interior as well as exteriors.
Since cooperatives tend to control building insurance for the entire community, they may impose additional rules for things like contractor renovations to kitchens and bathrooms.
Different foreclosure rights: Since cooperative shareholders do not own the unit which their cooperative share may entitle them to occupy, the shareholder does not have the same property rights and protections which condominium owners with a deed typically would have. This means that if a cooperative shareholder falls behind on their association dues or otherwise finds themselves in violation of cooperative member by-laws rules, they can be subject to forfeiture or eviction by the cooperative corporation rather than being subject to a lien or foreclosure as condominium owners would be.
Condominiums – What Are They?
A condominium, or condo, is a form of residential real estate ownership where residents own their individual units and share ownership of common areas such as hallways, lobbies, and outdoor spaces. Similar to cooperatives, condo owners are also responsible for paying monthly maintenance/association fees, which may cover some expenses such as utilities, property taxes, snow removal, lawncare, exterior maintenance and building upkeep. A rule of thumb with condominium owners, although this also varies by condominium subdivisions and bylaws, is that condo owners typically own and are responsible for maintaining everything on the inside of and including their unit's interior drywall, including HVAC, wiring, plumbing, etc, with some exceptions. But for the most part, most condo owners would not be responsible for maintaining their building's exterior siding, roofing, shared structural elements like common walls, or the sewer lines which serve their building or subdivision as a whole.
Condominium Advantages
Condo co-owners tend to have a bit more freedom to modify and personalize their units than they would in a cooperative. This is because residents own their individual units and can make modifications within the bounds of the building's rules and regulations.
Exterior maintenance, lawncare and snow removal are typically included which helps condo owners save time and effort in maintaining the exterior of their properties.
Obtaining financing for a condominium is typically easier than for a cooperative, although restrictions may still apply. Most conventional mortgage lenders have a condominium product for borrowers. For VA purchasers, there is a list of approved condominiums which have been reviewed and either approved or rejected by VA lenders; no such list exists for cooperatives in Michigan that we are aware of.
Condo associations often have amenities for their residents such as swimming pools, fitness/weight rooms, clubhouses for residents to book private events, or social gatherings.
Condominium Disadvantages
Residents are typically responsible for maintaining more of their individual units than cooperative owners generally would (although this may vary by association), which can be costly and time-consuming.
Condominium owners are also responsible for paying their own property taxes as well as condo-owners insurance policy whereas cooperative share owners often have those costs built into their monthly association fees.
Condominiums tend to have a set of by-laws and rules which co-owners are expected to comply with in order to maintain uniformity in the subdivision, whereas most cooperatives have that as well as an application & approval process for new cooperative members. While association rules tend to help maintain uniformity in a subdivision, these rules and restrictions are frequently a source of complaints from condo owners.
Advice for Condominium and Cooperative Purchasers
Current residents, members and neighbors can be a great source of information for the in's and out's in a given association. If you or your agent are unsure on something, try to meet a neighbor and ask them.
Association property managers as well as board members can also be valuable sources of information.
Association budgets and financials are very important for you and/or your attorney to review during your purchase. Most purchase agreements (including the Ann Arbor Area Board of Realtors purchase agreement as of writing this) contain some boilerplate language which stipulate that the purchaser be provided with association by-laws, master deed, recent meeting minutes, current financial statements and annual budget, and copies of budgets and disclosure of all fees payable to the association at the time of sale.
Most Common Complaints From Condo Co-Owners and Coop Shareholders
Association rules are either too strict or enforcement is lacking; when cooperatives or condominium associations have to enforce their by-laws, this is a common compliant from residents. Eg, if someone purchases a condo without understanding the limitations for parking vehicles, they may be surprised to find themselves being warned for parking additional vehicles or parking outside of designated areas. Or for another example, if someone purchased a condominium or cooperative in a community which is advertised as 55+, but the association doesn't seem to check or enforce these rules, the resident may be disappointed to find the association to be not what they expected in that regard. Pet restrictions are also very common in both condominiums and cooperatives.
Increases to association maintenance fees, and/or special assessments: If a purchaser buys into an association with a lower monthly fee, they may be disappointed to find the fee may need to be increased depending on what repairs and improvements are necessary moving forward. This tends to happen frequently with newer-built condominiums, since some larger-ticket maintenance requirements may not be necessary until years after a subdivision is built and they are not always planned and billed for in advance. Commonly cited expenses could include roofing, siding, repaving parking lots, docking or seawall repairs, or maintenance to swimming pools and common areas.
Unanticipated liabilities: When confronted with additional expenses, associations pass those costs onto their residents through increased fees, special assessments, or by borrowing money which would usually need to be repaid through increases in association fees. Examples would include a slip and fall lawsuit against the association by a resident who was hurt going down some stairs in a common area, or a pool accident where a resident or their guest may have been hurt while spending time in the association's pool area. Situations like these can result in costs shared by the whole community.
Opaque management procedures: Since cooperative corporations and condominium associations operate as quasi-governmental institutions, a common complaint we hear about association management is that they may not be transparent or clear enough with regards to expenses and maintenance billed to the association. Eg, one condominium owner was complaining about their association billing for roof repairs which were not truly carried out by roofing companies. It can be frustrating, time-consuming and expensive to litigate against an association, and sometimes the best choice when weighing condominium vs cooperative would be to simply choose neither and purchase a single family home (with no HOA) instead.
Confusion as to inclusions/exclusions: Another frequent complaint we hear is confusion regarding what is covered by the association and what is not, for instance one association may advertise exterior maintenance as part of what's covered by association maintenance fees, however, exclusions often apply such as windows or sliding glass entry doors which need to be replaced by the unit owners themselves for an additional cost. To get a better idea of the fine print, purchasers doing their due diligence should ask for an association "repair matrix" which shows who is responsible for what, such as the example below: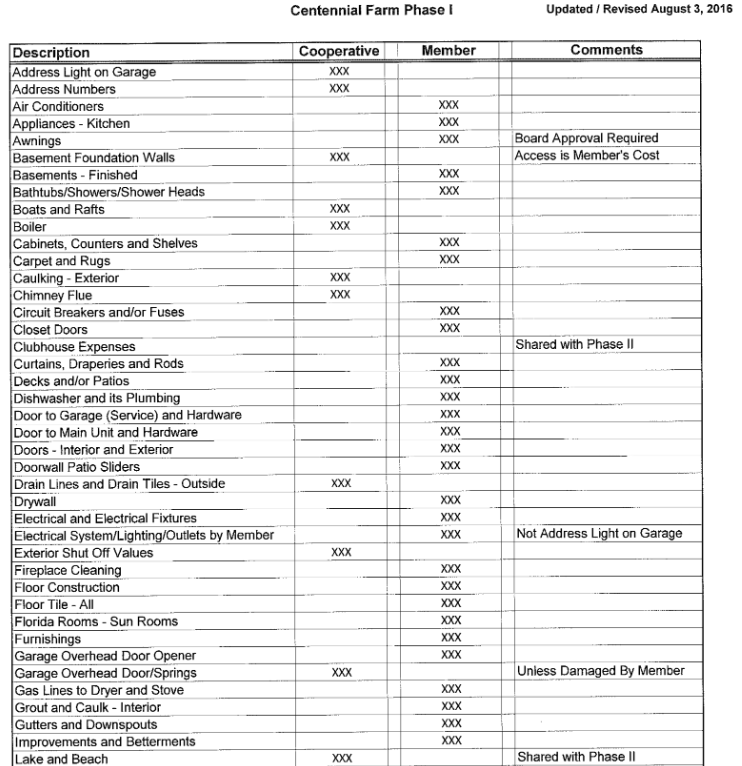 Some Condominiums in Our Market Area:
Our community pages provide details and current units listed for sale.
In Ann Arbor
In Ypsilanti
Some Cooperatives in Our Market Area:
Shopping for a Condominium or Cooperative Unit in Southeastern Michigan?
We're happy to help if you are looking for a Realtor who is experienced in handling the sales of cooperatives and condominiums, we can also help you select which type (Cooperative vs. Condominium) or which subdivision might be a best fit for you. Feel free to reach out to us anytime for a free homebuyer's consultation to learn more, and to set up a private tour of units listed in/around Washtenaw County.

If you're thinking of selling a condominium or cooperative member share, put our experience and marketing to work for you; call 734-272-6612 or email awmunro@gmail.com or book a free listing consultation online or in-person.