Ypsilanti's Classic Restaurants and Watering Holes: A Taste of History
One of the things I learned about Ypsilanti shortly after moving here roughly 12 or 13 years ago was that the town was at one point more wealthy and influential than its larger and more famous neighbor, Ann Arbor. This is apparent not only in the architectural styles in the neighborhoods and historic downtown areas (including Downtown, Riverside and Depot Town), but also in the long-standing restaurants and bars which residents here know and love. Whether you are a longtime resident or are new in town, I wanted to take the time to introduce you to some of Ypsilanti's oldest restaurants.
In Fond Memory of My All-Time Favorite Bar & Restaurant: Haab's
Haabs having closed late in 2022 was a huge loss to the community as an old staple in Ypsilanti's downtown, and being half a block from me it became a favorite place of mine to meet customers, friends and subcontractors. Haab's had a daily happy hour which seemed just too cheap to make sense for the establishment ($2 beers and various $2 and $3 appetizers), and they also used to host a once-annual event where they would roll out original menu pricing from 1934 to include $0.40 spaghetti and $0.50 chicken in a basket with french fries. There were many days where I would meet subcontractors at Haab's, just after the end of the workday during their happy hour since it was not only affordable and delicious but also so convenient to the historic building we were remodeling into what would later become my office. The establishment tried to re-assert itself after having their business disrupted by the COVID-19 pandemic, but ultimately had to close. Having lost a nearly 100-year old gem in town, I figured this would be a good time to tell others about some of the other longstanding, independent establishments here in Ypsilanti which our residents are so fond of. Now, let's get onto exploring Ypsilanti's restaurants who've served our community for generations which everyone must try at least once…
(734) 482-0550 | 306 E Michigan Ave, Ypsilanti, MI 48198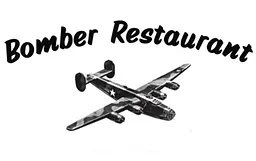 Ypsilanti's Original & Best Breakfast
In a modest location inside a shopping plaza on Michigan Ave in Ypsilanti Township, the Bomber is a longstanding diner (or "coney island" as we call them here in Michigan) with a storied history. First opening in 1936 under its original name, Baldwin's Diner, the Bomber took its current name from the massive wartime production efforts that took place at the Willow Run plant in Ypsilanti during World War 2, where a B-24 was manufactured every 59 minutes when the plant was at peak production [1]. The interior of the restaurant is adorned with miniature fighter planes and bombers of various nationalities from the second World War, and other military memorabilia covers its walls.
The most popular items at the Bomber would include their Bomber Breakfast which boasts a portion size which I have never even considered trying to eat myself but may make sense for two people to share or for a breakfast now with a second meal to be taken home for later. For those of us with a sweet tooth they have Cap'n Crunch French Toast and my personal favorite, the Peanut Butter French Slam which is french toast stuffed with peanut butter and topped with whip cream and chocolate syrup, served with eggs and bacon on the side.
The Bomber's full menu is online here, and as of writing this they close for the day around 1:45pm; so be sure to come earlier in the day or you'll miss it!
---
(734) 485-2831 | 1292 E Michigan Ave, Ypsilanti, MI 48198
Ypsilanti's King of Dogs & Root Beer
We understand Bill's to have dated back to 1936 in its tiny building along Michigan Ave (one of the state's oldest thoroughfares connecting Detroit to Ypsilanti and Ann Arbor). Bill's has no interior space for customers, patrons simply pull into their parking lot and are greeted by a server who takes their order car-side, collects cash and brings back customers' change along with delicious chilidogs and housemade root beer. They do have outdoor picnic table seating which is nice for families to be able to have the kids (or dogs) outside while they stop off for a quick meal.
The friendly staff at Bills actually have their own sign language which they signal back to the cooks who prepare orders; Bill's is so popular during the Spring and Summer that I figure their signaling method came about to save the servers from growing tired and hoarse from running back and forth and shouting orders to their colleagues. Patrons often buy a 2liter of Bill's Root Beer to put in the fridge at home. Bill's is famous food destination which all residents and visitors should experience at least one time for a root beer float and a B-dog.
Bill's is open seasonally from February thru October and is *cash only*, so come prepared and don't forget to tip their awesome car hops!

---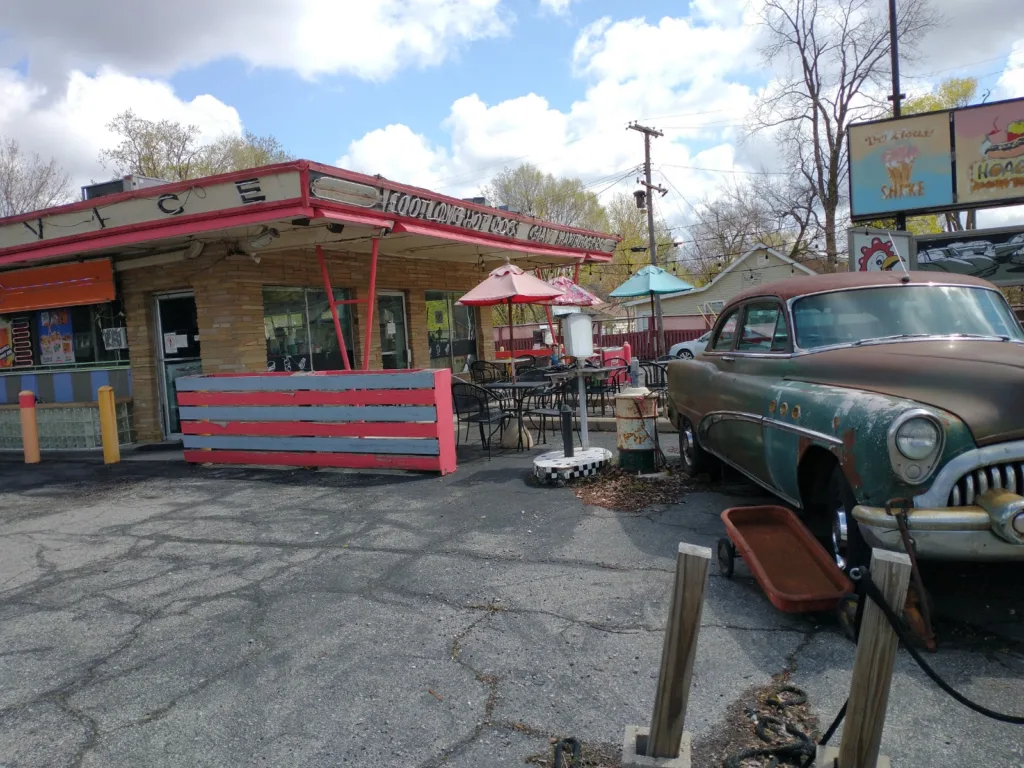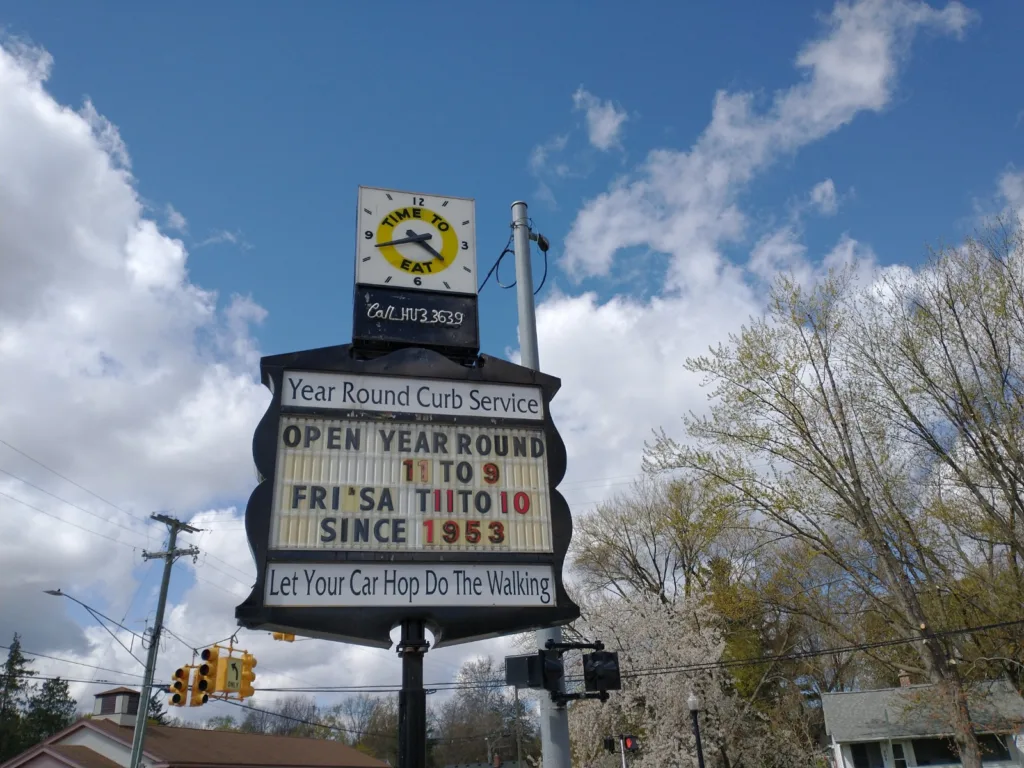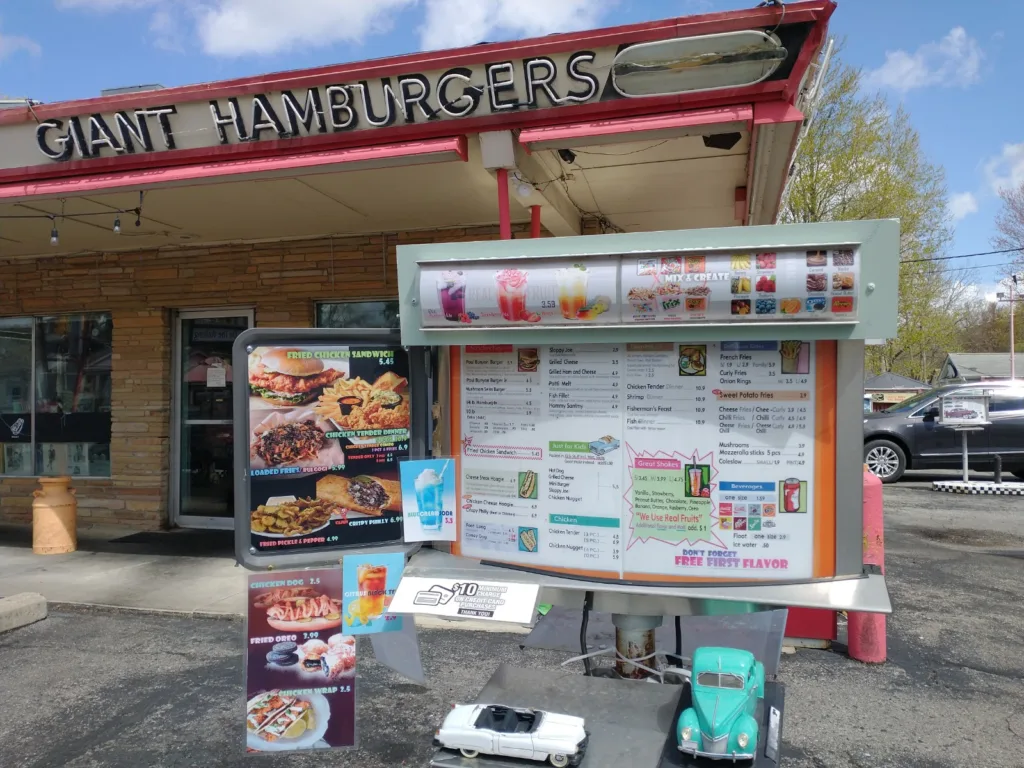 (734) 483-3639 | 501 Holmes Rd, Ypsilanti, MI 48198
Ypsilanti's Classic Drive-In Experience
Adorned with bright neon signage, vintage decor and classic cars, the Chick Inn was first established in 1954 by former owners Jim and Charlotte Allen. The structure having been previously used as a soda fountain business (soda fountains or 'malt shoppes' having predated and were mostly replaced by modern fast food franchises), the Allens thought it would be perfect for a drive in restaurant [2]. Located on Holmes Rd, the establishment is right among single family homes and churches which makes it a cool and walkable option for residents on the north side of Ypsilanti just down the street from Terrace Park Condos; from all appearances the Chick Inn seems to have predated modern zoning ordinances because it is the only business of its type at this intersection at the edge of Ypsilanti Township and the City of Ypsilanti.
Chick Inn is known for their delicious malted milkshakes, giant footlong hotdogs, chicken tenders and their Paul Bunyon Burger. We recommend trying the deep fried Oreo cookies and the onion rings (because who doesn't like fried food!?). Chick Inn also has some unique dishes you won't see everyday like their Chicken Dog, Bulgogi loaded fries, and a deep fried cheesesteak wrap.
If you're looking for the classic drive in experience in one of Ypsilanti's oldest restaurants, the Chick Inn is a must try!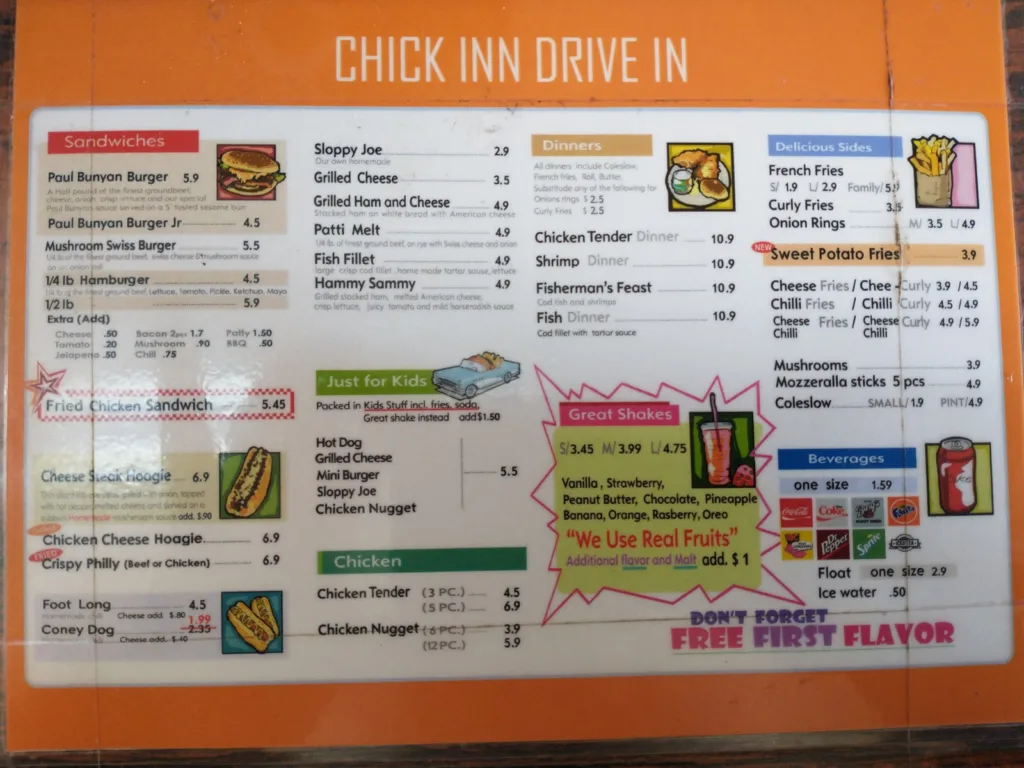 ---
734-485-3999 | 1315 E Michigan Ave, Ypsilanti MI 48198
Ypsi's Quintessential Burger Joint
Roy's is an iconic, independently-owned restaurant and a much-loved favorite for townies and travelers alike. Named after founder Roy Tillman who bought and opened their first burger shop here in 1952 and later went on to open more locations in Tecumseh, Milan and Monroe, Michigan, the Squeeze Inn has kept things old-school in their remaining location along Michigan Ave in Ypsilanti Township (YTown)[3], pulling diners from Canton and Ann Arbor for their sought-after "Big Cheese Squeeze" burger. Their building is also extremely memorable because of its round shape and many windows where diners can be seen eating from drivers passing along Michigan Ave.
If you're driving down Michigan Ave East of downtown, you'll know Roy's when you see it; try the big cheese squeeze for a delicious seasoned burger with potato wedges and a pop.
Roy's is also *cash only*, so come prepared and don't forget to tip their waitstaff!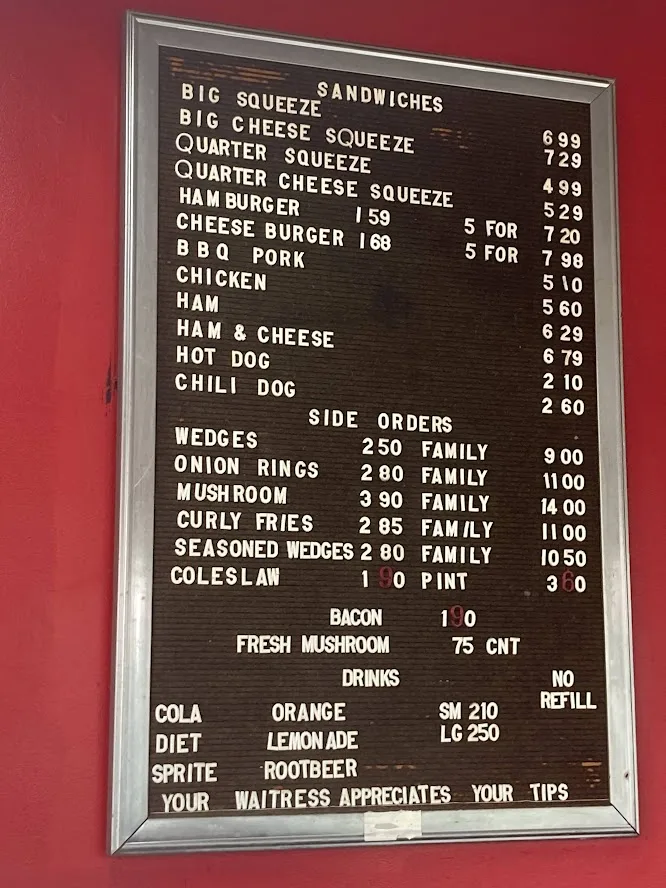 ---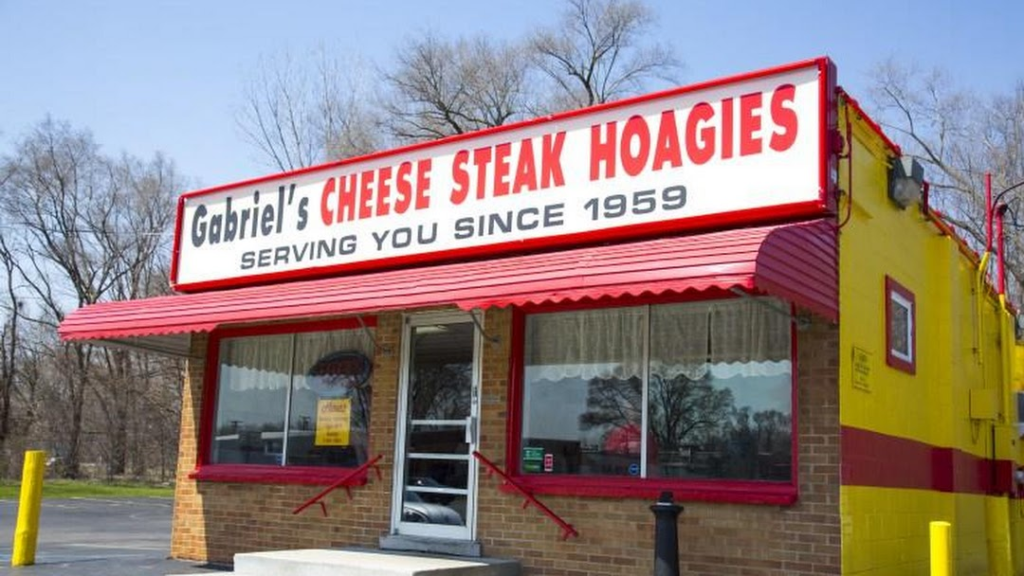 (734) 483-5846 | 2585 E Michigan Ave, Ypsilanti, MI 48198
The Best Hoagies in Ypsilanti
Having spent my formative years in North Carolina, I had never heard the term 'hoagie' until I moved back to Michigan; apparently the word refers to the long sandwich bun popularized in Philadelphia with their cheesesteak hoagie sandwiches. And no, this isn't New Jersey but the Italian-American influence is apparent here in Michigan and Gabriel's delivers on the delicious hoagie, with their take on the classic being served with cheese, mushrooms and grilled onions with hot peppers on the side.
Established 1959, Gabriel's flagship shop is on Michigan Ave in Ypsilanti Township. Through the generations it has remained one of the most popular restaurants in Ypsilanti, drawing in residents and contractors from neighboring communities. They also have 2 more shops in Westland and Saline serving up their classics. Gabriel's has interior dining space to sit down and have a quick meal.
Their menu only has a few different hoagies and a couple of salad options; but what Gabriel's does offer, they make exceedingly well and are worth the trip from Ann Arbor for their cheesesteak fix. Their menu is online here.
---
#6: The Tap Room
Located in a building constructed 1841, the Tap Room first opened its doors about a century later in 1941 during America's participation in World War 2 when the B-24 Bomber was first being produced in Ypsilanti's Willow Run plant [4]. Rumor has it that the reason the bar's front door is so low to the ground is because during the wartime production efforts at Willow Run, the plant specifically recruited people of short stature (since they were able to access parts of the plane that people of normal height were unable to get to), and the Tap Room had their doorknob put in this way to make it easy for them to access the bar for a pint after a hard workday!
The bar was purchased by its current ownership (one of which was working as a real estate salesperson) in 1993, and the pub's history is visible in its well-preserved woodwork and decor.
Tap Room draws an eclectic blend of professionals as well as the occasional EMU students and staff. The pub's known for having a stiff pour, and offers weekly drink specials; so be sure to bring your friends and call an Uber if you aren't living within walking distance! This is one of downtown's best places to grab a burger (with beef from Knight's meat market) and a beer without breaking the bank. Tap Room has a shuffleboard and pool table, and hosts monthly events including local music which are advertised on its website along with their specials. As of writing this their kitchen is open daily until midnight, which is great for those of us working late.
---
Sources
[1] The Bomber Restaurant's History; https://www.bomberrestaurant.net/history
[2] Ypsilanti Gleanings, Summer 2009, Pages 12 & 22 (courtesy Ypsilanti Historic Society)
[3] Ypsilanti Gleanings, Winter 2012, Page 29 (courtesy Ypsilanti Historic Society)